Letters and Sciences Scholarships
Letters and Sciences (LTSC) provides two scholarship opportunities to help qualified students realize their dreams. Students must be in LTSC, have at least 30 credits by end of the semester in which they are applying, meet the GPA requirement, and have involvement in one or more of these areas: research, service learning, civic engagement, study abroad or leadership in student organizations.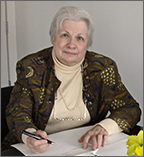 The Betty J. Beckley Award for Letters and Sciences Students provides scholarships to help students realize their dreams. Dr. Beckley served as Assistant Dean for Undergraduate Studies and as the first Director of Letters and Sciences, 1986-1997. When she retired in 1997 after 24 years at Maryland, her staff set up an endowment fund in her name. Beckley has added to it regularly. Reflecting her continuing dedication to students, the Beckley Award will benefit sophomores in Letters and Sciences who are involved in research, service learning, civic engagement, study abroad, or leadership. Selection criteria will include academic merit, financial need, and campus involvement.
Before directing Letters and Sciences, Dr. Beckley's University service included advising students, coordinating internships for the Maryland General Assembly Program, and teaching writing and literature courses for the Department of English Language and Literature. Beckley said she "wants students to experience their undergraduate education as a grand opportunity — not merely career preparation but learning about and making choices that will be right for them throughout their lives."
Since retirement, Dr. Beckley has focused on environmental conservation. She received a 2002 Earth Day Volunteer Award for Riverbank Restoration. Her conservation interests also include sustainable farming and green energy. Leader of the Potomac Riverbank Conservation Project and member of the Potomac Headwaters Resource Conservation & Development Council, Dr. Beckley lives near Shepherdstown, WV, a five-minute walk from the river. She named her home Terphill, a mark of her enthusiasm for the University.
Enrollment Code: Letters and Sciences
Amount of Award: Variable (not renewable)
Number of Awards: Variable
Eligibility: Must have at least 30 credits by end of the spring semester, a cumulative GPA of 3.25 or above with involvement in one or more of these areas; research, service learning, civic engagement, study abroad or leadership in student organizations. Must be a current Letters and Sciences student or have been part of Letters and Sciences for some portion of the spring semester. Must have a FAFSA form on file with Office of Student Financial Aid, have unmet financial need, and be enrolled for a minimum of 12 credit hours during the spring semester.
Application Period: Annually, December 1st to May 31st
Enrollment Code: Letters and Sciences
Amount of Award: Variable (not renewable)
Number of Awards: Variable
Eligibility: Must have at least 30 credits by end of the spring semester, a cumulative GPA of 3.0 or above with involvement in one or more of these areas; research, service learning, civic engagement, study abroad or leadership in student organizations. Must be a current Letters and Sciences student or have been part of Letters and Sciences for some portion of the spring semester. Must have a FAFSA form on file with Office of Student Financial Aid, have unmet financial need, and be enrolled for a minimum of 12 credit hours during the spring semester.
Application Period: Annually, December 1st to May 31st